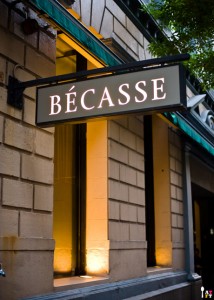 12 June 2010
Chef: Justin North
The mid-year tennis dinner was held at Becasse Restaurant in Clarence Street Sydney with the four playing members only.

Ratings
Ambiance 3/5
Food and Wine 5/5
Service 4/5 (no synchronised plate delivery)
Graham and Francis had issues with the potato cooked in ash and the creme brulee.
Peter and Mark was very happy with the food and wine.
Overall Peter gave it 4 stars.
---
Degustation Menu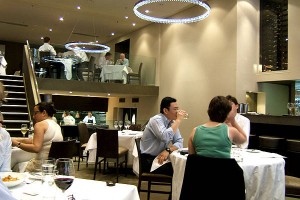 Canapé

Amuse bouche

Salad of marinated winter vegetables
pea mousseline, purple carrot puree, black olive and lemon balm
2008 Dr Mayer Riesling trocken, Remstal

Yabby tails and heirloom tomatoes
green zebra gazpacho, golden tomato and olive oil sorbet
2009 Vina Litoral "Ventolera" Sauvignon Blanc, Leyda Valley

Low temperature cooked Hapuka fillet
braised leeks and baby onions, clam beignets, curry and crème fraiche
2008 Paco & Lola Albarino, Rais Baixas

Fricassée of king prawns and hand rolled macaroni,
local prosciutto and smoked crustacea butter
2008 Domaine des Rouiges-Queues, Bourgogne Hautes-Cotes-de-Beaune, Burgandy

Braised pork tails and smoked scallops
caramelised calves sweetbreads, celeriac and congo potatoes
2007 Elian da Ros "Abouriou", Cotes du Marmandais, South-West

Daube of Blackmore's full-blood wagyu shin
kipfler potato baked in ash, Jerusalem artichoke and jus Bordelaise
2008 Gibson Reserve Merlot, Barossa/Adelaide Hills

or

Ballotine of Glenloth Game Pheasant
confit chestnuts, Brussels sprouts, bacon and jus gras
2008 Poonawatta Estate "The Cuttings" Shiraz, Eden Valley

Pink grapefruitcreme legere
buttermilk and beetroot

Banana crème brulée
salted peanut brittle and milk coffee sorbet
2007 Vinden Estate Botrytis Semillon, HunterValley

or

Zokoko 66% Uganda chocolate and caramel 'cadeau'
organic vanilla and milk sorbet
2006 Mas Amiel Vintage Reserve, Languedoc-Roussillon

Plus

Small cheese platter with TBA fortified wine.

---